Summer Solstice Celebration!
Our club is one of 4 Rotary Clubs in Edmonton that are generously helping to sponsor this event. If you would like to attend please RSVP to this email and I will notify the organizers to send you a personal invitation.
Cheers,
Annie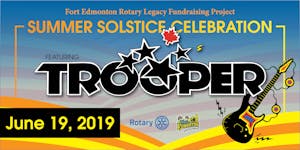 Please join us on Wednesday, June 19, 2019 for this special BY INVITE ONLY Summer Solstice Celebration as we support Fort Edmonton Park`s Capital Campaign with an unforgettable evening of music, dance and fun.
Join with more than 1000 Friends of Fort Edmonton Park as we celebrate with Trooper - YES, we will rock!!!
Connect with friends and help support the $11 million Capital Campaign for the 4 expansion projects at Fort Edmonton Park that is currently underway to enhance this world class attraction. All levels of government have contributed to the $168 million project and all that's left is $11 million that we need to raise from you, the community.
There is no ticket cost to attend the event, your admission is your 100% tax-deductible donation. The amount is up to you - if it's meaningful to you, it's meaningful to us!
Event Details
Event Hosts: Lorraine Mansbridge & Tim Spelliscy
Time: 6:00 pm - 10:00 pm
Entertainment:
Warm Up Acts: Dancing Cree
Retrofitz
Headliner: Trooper